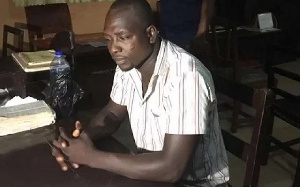 Mr. William Baah, the Assemblyman who allegedly galvanized residents of Denkyira Obuasi into a lynch mob that resulted in the gruesome killing of Major Mahama, will reappear in court today. He was one of seven suspects who were remanded by a Cape Coast Circuit on June 7th.
Furthermore, he is also one of 52 suspects who have been arrested by police in connection to the horrible killing. Police have also reported that five out of 12 outstanding suspects declared wanted in connection to Major Mahama's lynching have been apprehended.

Their names are Bernard Asamoah aka Daddy, Bismark Asamoah aka Rasta, Sarah Mensah, John Boakye, and Kwame Awona.

According to reports, Major Maxwell Adams Mahama was allegedly mistaken for an armed robber by townswomen while on his morning jog when they saw him carrying a side arm. They allegedly notified the assemblyman who subsequently led a group townspeople to deal with the alleged robber.

Though the aforementioned version is by all means the most popular, many Ghanaians have questioned this version of events.

Some versions have it that the late army major had been called by the notorious assemblyman to a meeting where discussions deteriorated and led to the late army captain being wrongfully killed by the assemblyman and residents of Denkyira Obuasi.