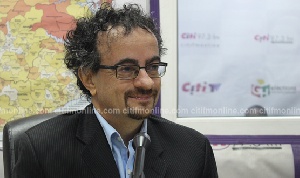 Former British High Commissioner to Ghana, Jon Benjamin is at his game again. As the tension builds up for the release of Anas Aremeyaw Anas' latest expose in the sports sector in Ghana, he has taken to his Twitter account to release some tension.
In a tweet, he has christened today as a 'judgement day' for the Ghana Football Association (GFA) but an ordinary one for everyone else.

He has also retweeted with quotes other people's quotes directed at him regarding the same issue.

Anas' 'Number 12' will be premiered today, June 6, at the Accra International Conference Center at 3pm. There will also be subsequent shows after the main premiere.

Reports on other news websites suggest that the content of the video reveals more corrupt practices in the sports industry. Some of the reports suggest that these acts of corruption are also linked to some top people in power.

Ghanaians have looked forward to this video eagerly especially after the production house, Tiger Eye PI shared snippets of what is to come. Sports pundits have asserted that the eagerness for this video stems from the fact that Ghanaians are very passionate about football.
See some of his tweets below:


Today is an ordinary Wednesday, 6th of June.

Except at the GFA, where they call it "judgement day".

— (((Jon Benjamin))) (@JonBenjamin19) June 6, 2018
I can confirm that I definitely have no friends at the GFA! https://t.co/uX5F0KJffI

— (((Jon Benjamin))) (@JonBenjamin19) June 6, 2018
Ghana in Icelandic.

I wonder if the Black Stars will be watching a certain documentary film before the game? https://t.co/6sp9HH846i

— (((Jon Benjamin))) (@JonBenjamin19) June 6, 2018