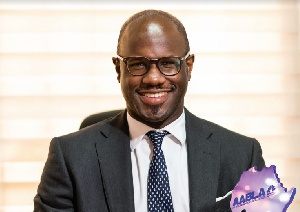 Managing Director of Nyaho Medical Centre, Dr Elikem Tamaklo, has said he made his coronavirus status public because he is determined to fight the stigma against infected persons.
In a video, he said making his COVID-19 status public was part of efforts to stop the virus from spreading to other members of his family.

"A lot of people have asked me why I shared my status so publicly. It was because of this idea of stigma.

"My personal story was really that my wife and I were symptomatic when we tested, and in fact, we tested our whole family and our children were positive but had no symptoms at all," he revealed in the video.

Dr Tamaklo confirmed through the Media Liaison of the Centre, Rita Agyeiwaa Rockson, earlier this month that he got infected most likely through a community-based case.

Rita Rockson stated that Dr Tamaklo had not been physically present at the hospital premises two weeks before the public disclosure of his status.
In the video shot in a small office, Dr Tamaklo said himself and the whole family were in good health.

He revealed that symptoms he experienced in the early stages of the infection included fever, body aches and mild coughs.

He urged the public to adhere to the safety measures of handwashing and wearing of face masks since they help to reduce contact with the virus.

As of Saturday, June 21, 2020, the number of COVID-19 cases in Ghana stood at 13, 717 with over 10,000 recoveries and 85 deaths.