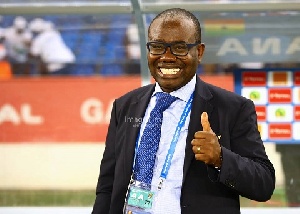 President of the Ghana Football Association (GFA) and 1st Vice President of the Confederation of African Football (CAF), Mr. Kwasi Nyantakyi, has lauded the organisation of the ongoing 2017 West African Football Union (WAFU) tourney in Cape Coast and Elmina.
Several connoisseurs of football have commended the organisers of the competition which was arranged by Fox Sports as part of a twelve-year partnership between the broadcaster and the West Africa national football associations union for putting together the tournament which was observed seven years ago in Ogun State, Nigeria.

The tournament which is only permissible for West African countries was strategically targeted from a development perspective, to enable participating nations build solid national teams as back up to the main national sides as well as for next year's Championship of African nations (CHAN). The tournament also provides a platform for locally based players to justify their inclusion into their main national teams.

With club football in West Africa crawling on its knees, there is no properly organised football leagues among the 16-member countries taking part in the WAFU tournament while currently, there is no club from the 16-WAFU member-countries in CAF's top 10 clubs in Africa, nor are any of their respective leagues part of the top leagues on the continent.
It is therefore surprising that club competitions on the continent are dominated by Northern and Southern African teams and quite recently teams from Eastern Africa.

But speaking to the media after Black Stars defeat to Nigeria in their final Group A match, Mr. Nyantakyi said "We have used football to unite the countries in West Africa for a common purpose and that is to showcase their talent in soccer but beyond that, we have also shown that as Africans, we are capable doing something together and achieving a common objective and this tournament has proven to be a resounding success"

"With all the teams participating and giving off their best, I think we all can attest to the fact that we are witnessing one of the brands of football in recent times. Organisation has been superb, production excellent and coverage by the media by the media is just awesome and I think we all have to share the glory of the success of the tournament," Mr. Nyantakyi expressed.