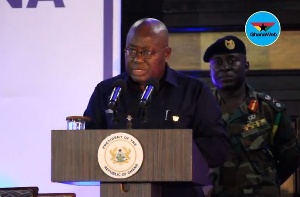 President Nana Addo Dankwa Akufo-Addo has reacted, albeit indirectly, to critics making capital of claims by GFA boss Kwesi Nyankakyi that the president can be induced with money to influence his decision.
Mr. Nyantakyi, in an investigative documentary yet to-be-aired, sort of armed the president's opponents with what they adduced is a fair idea of what President Akufo-Addo has turned the presidency into.

In the secretly recorded video by investigative journalist, Anas Aremeyaw Anas, the GFA boss is said to have suggested to potential investors in Morocco that he has President Akufo-Addo in his pocket.

The president, as allegedly claimed by Kwesi Nyantakyi who is also CAF Vice President, can be influenced by 5 million dollars.

Unfortunately, it turns out that the investors were Anas and his Tiger Eye PI investigative team.

Nana Akufo-Addo has since reported the GFA boss to the police CID who are investigating the football administrator for fraud.

But Akufo-Addo's political opponents have latched onto the allegations, going to town with the perception that the president is corrupt.
For instance, Ranking Member on the Constitutional and Legal affairs committee of Parliament and Member of Parliament for Tamale Central, Inusah Fuseini believes bringing in the CID is "an attempt by his excellency the president to continue to maintain the high moral standards, perceived high moral standards that he has, but recent events clearly have cast doubt on this high moral standards."

The MP pitched the president against his predecessor John Mahama, calling the former president a "saint" to contrast Mr. Nyantakyi's claim about Nana Akufo-Addo.

Claims such as this may have compelled President Akufo-Addo to rehash his admonishing to journalists and the general public early this year.

"I think it is also worth pointing out that we should be careful about the new trend that appears to be emerging, where any allegation, no matter how spurious, quickly gains the character of a 'scandal' or 'an act of corruption' even when it is shot down," the president on Friday tweeted his previous concern at a media encounter on January 17, 2018.