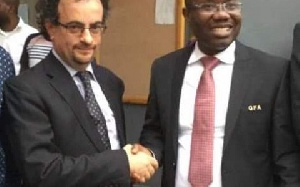 Former British High Commissioner to Ghana, Jon Benjamin, has joked that Mr Kwasi Nyantakyi will need an 'Obinim Sticker' to get out of the latest quagmire he has been caught in.
Mr Nyantakyi, president of the Ghana Football Association (GFA), who is out of the country on official duty in Morocco and Egypt, will face the police today, Wednesday, 23 May 2018, after President Nana Addo Dankwa Akufo-Addo reported him to the Criminal Investigations Department (CID) for allegedly using his name to peddle influence to clench some deals with prospective investors.

The GFA boss was captured by investigative journalist, Anas Aremeyaw Anas, in an undercover piece which took him over two years, according to Editor-in-Chief of the New Crusading Guide newspaper, Abdul-Malik Kweku Baako Jr.

Mr Benjamin, shortly after the president reported the incident to the CID, tweeted: "We need a consignment of Obinim stickers sent over to Morocco urgently please, by whichever route is most coefficient. Thank you."

Mr Benjamin in an interview in 2015 criticised the GFA for their inability to use funds received from FIFA to develop grassroots football.


We need a consignment of Obinim stickers sent over to Morocco urgently please, by whichever route is most coefficient. Thank you.

— (((Jon Benjamin))) (@JonBenjamin19) May 22, 2018




"…I have some questions about Kwasi Nyantakyi's use of the funds he receives from FIFA… What I have seen is GFA officials in very expensive (SUVs) land cruisers, what I haven't seen is really good pitches at grassroots level for ordinary Ghanaians," he said.

The GFA issued a statement to describe Mr Benjamin's comment as "at best stupendous ignorance or, at worst, sinister."