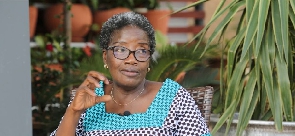 Wife of the late former president, Paa Kwesi Amissah-Arthur has described what she terms as the 'official presidential language' of Ghana as Nzema.
According to Matilda Amissah-Arthur, Ghana's first president was from the Western Region of the country and spoke Nzema, making it automatically the presidential language.

"Kwame Nkrumah was an Nzema so Nzema is the presidential language," she said, while speaking in an interview on Joynews.

Mrs. Amissah-Arthur said this while revealing her identity as an Nzema. She noted how that her parents hail from a town called Essiama but that movement around the country made it such that majority of her young life had to be spent in the capital city; Accra.

"I'm an Nzema. I come from a town called Essiama. Both parents are Nzema and I speak Nzema. Nzema is the presidential language. I know a lot of people think I'm a Ga or a Fante. I speak very good Ga, that's why a lot of people think I'm Ga. I was born in Kumasi Effiduase and at the age of 2, my parents moved to Dodowa and I spent one year in Dodowa and then they moved to Accra so growing up, my primary school and everything was in Accra, a place now called South Labadi Estates; then it used to be called Nyaniba Estates," she noted.

Matilda Amissah-Arthur further revealed more about her childhood and how life was for her at a young age, living with her parents at Nyaniba Estates.

"Nyaniba Estates; late 50s, early 60s, was porshe. If you take away Ring Way Estates, Kanda, Nyaniba was next. Kwame Nkrumah's ministers lived in Ring Way Estates and the deputy ministers lived at Kanda and top civil servants lived around Nyaniba Estates. My father worked with social welfare, lived in Nyaniba Estates and that area.
"It was a small community so everybody knew each other. To the extent that at a point, the parents there decided to set up a school because we were walking to schools very far. So the parents set up a school called Osu Home School so that we could go. Interestingly, it turned out to be such a good school that ministers started bringing their children there," she added.

You can also watch this episode of People & Places here:





WA