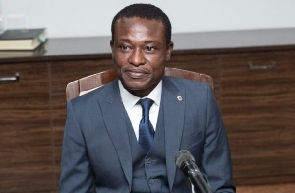 The Office of the Special Prosecutor (OSP) has stated that it has closed the court case involving Municipal Chief Executive (MCE) nominee of President Nana Addo Dankwa Akufo-Addo, for the Juaben Municipal Assembly in the Ashanti Region, Alexander Kwabena Sarfo-Kantanka.
In a tweet shared on Thursday, July 13, 2023, the OSP indicated that the High Court in Kumasi has since adjourned the case to October 20, 2023 following the closure of the case.

Alexander Kwabena Sarfo-Kantanka was charged with 26 counts of corruption for allegedly trying to induce persons who were to confirm his nomination as an MCE by the OSP.

In a statement issued on May 24, 2024, the Special Prosecutor indicated that the charges against Sarfo-Kantanka are for corruption allegations regarding elections for his confirmation as MCE.

"The Office of the Special Prosecutor (OSP) has charged the nominee for the position of Chief Executive of Juaben Municipal Assembly; Alexander Kwabena Sarfo-Kantanka with Twenty-Six (26) counts of corruption in respect of a public election - arising out of two public elections conducted in September and November 2021 for the confirmation or otherwise of his nomination," a portion of the statement read.

The accused person appeared before the court for the first time to answer to the accusation against him on Wednesday, June 1, 2023, where he pleaded not guilty to all the 26 charges.

The OSP presented four witnesses to make its case in the course of the trial.
The witnesses testified and were cross-examined by both the lawyers of the accused person and the prosecution.

View the OSP's tweet below:


Update

The Republic v Alexander Kwabena Sarfo Kantanka

The OSP has closed its case in the trial of the MCE nominee for Juaben in the Ashanti Region for corruption in respect of a public election.

The High Court sitting in Kumasi has adjourned the case to October 20, 2023.

— Office of the Special Prosecutor-Ghana (@ospghana) July 13, 2023
BAI/WA

Watch the latest episode of The Lowdown: