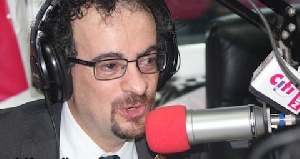 The British High Commissioner to Ghana, Jon Benjamin, has mocked Ghanaian televangelist, Bishop Daniel Obinim after the National Communications Authority took down the prophet's TV station OB TV.
In a tweet the gregarious High Commissioner said, "Oh no – Obinim's TV channel has been taken down? Maybe he can reappear in animal form on discovery channel?."

OB TV, the television channel owned by the controversial miracle worker and other TV stations including Kessben TV, Angel TV, Nduom's ATV and Capital TV have all been pulled down by K-Net under the instruction of the NCA.

According to NCA sources, the channels do not meet the basic requirement of operation by a television station. In all, over 11 stations have been pulled down.
The regulator has warned a lot more channels will be taken down in the coming days.


Oh no - Obinim's TV channel has been taken down? Maybe he can reappear in animal form on Discovery Channel? https://t.co/p0FOVsbSO8

— Jon Benjamin (@JonBenjamin19) March 30, 2016