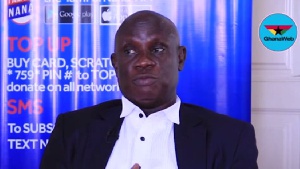 The Deputy General Secretary of the ruling New Patriotic Party (NPP), lawyer Obiri Boahen has expressed pain and bitterness over the decision by the two wives of late Kyeremanteng Agyarko to contest the Ayawaso West Wuogon seat.
Speaking on Frontline on Rainbow Radio 87.5FM, the lawyer said he felt sad after the news got to him.

His worry was that the late MP has not been buried and yet his two wives are fighting over his seat, a situation he said was disgraceful.

The norms, beliefs and cultural values of Ghanaians and Africans do not allow what has happened and he has therefore called for calm.

Lawyer Boahen who nearly cried said: "I am sad. Someone is dead and has not been buried but people are interested in his seat. Is this our culture and values?

''I asked myself why this occurred. The funeral has not been performed and so why do we think of who will succeed him politically and customarily? Is this fair? Although the NPP is a party that accepts democracy, it does not says we should think of democracy when someone is dead. Mr Agyarko is a family man and so why should we encourage this?
In his view, the party cannot impose a candidate on the constituency adding, "we have to respect the dead. Let us the family, let us respect the leadership of the party and stop the unnecessary drama.''

Mr Boahen described the late Agyarko as a man full of respect and discipline hence the need for that same respect to be accorded him.

"Those of us who believe in African Traditional beliefs must condemn this act. It is bad and disgraceful and disrespectful to the late Agyarko.''

Some youth in the constituency, on Monday made moves to present a petition to officials of the New Patriotic Party (NPP) at the party's headquarters, asking that one Lydia Agyarko, said to be a wife of the late MP, should not be allowed to contest the upcoming by-election.

Rather, the youth argued they would prefer that, another person, Naana Agyarko, also said to be a wife of the late MP, should be allowed to contest.