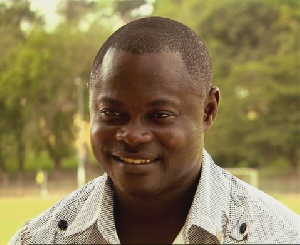 Managing Editor of the Ghanaian Lens newspaper, Kobby Fiagbe says even though distraught former Ghanaian International, Nii Odartey Lamptey, may have good reason to suspect he was not the father of the three children he fathered with his wife, Gloria, he took the wrong approach in announcing the news.
According to him, Odartey Lamptey's revelation will psychologically affect the innocent kids, describing as "unfortunate" the decision to accuse his wife in public of being a seductress.

"If he (Odartey Lamptey) had really thought of this, he would have solved it without making it public. He might think he is tarnishing the lady's (wife) image, but he should know he has scandalized the kids for life. How is he going to repair that damage?" He quizzed.

The former Ghana midfielder only realised a few days ago that all his three children he fathered with his wife are not his biological children. The ex-footballer suspected the wife of infidelity and asked for a DNA test on all the children only to discover that he is not the biological father of all the three children.
According to reports NEAT FM gathers, the woman known as Gloria is now claiming that the man (Odartey Lamptey) is infertile and that it was her husband who suggested for an artificial insemination.

However, worried Odartey Lamptey in an interview with NEAT FM's Adakabre Frimpong Manso said he had earlier prayed to court for divorce when he suspected his wife was having extra-marital affairs and producing children out of wedlock.

But speaking on Asempa FM, Mr. KobbyFiagbe advised that "In order not to damage the kids, he (Odartey Lamptey) should take the children out of the country to have a sound mind to study."