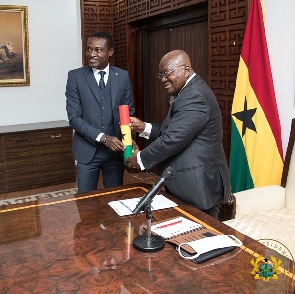 A retired Appeals Court Judge has descended heavily on the government for the establishment of the Office of Special Prosecutor (OSP).
According to Justice Isaac Delali Duose, the office is wasteful and will not serve the intended purpose.

He said the OSP is a parallel office.

"It will not serve the purpose for which it was established," he said, adding: "It will be business as usual in the unyielding fight against corruption."

Justice Duose expressed his displeasure about the establishment of the OSP while speaking in an interview on the Ghana Yensom morning show hosted by Odehyeeba Kofi Esssuman on Accra 100.5 FM on Monday, February 13, 2023.

He noted that this is another duplication of the office of the Attorney General and Minister of Justice.

"These duplications will bring the fight against corruption to naught," he said.
He noted that the country once had the services of a Special Prosecutor who was solely in charge of prosecutions.

He said the then Special Prosecutor's office was manned by Justice Amonu Monney.

"This was still under the attorney general's office," he said "but OSP is an additional cost on the already depleted state coffers."

"Now a huge edifice with tailor-made gargets has to be provided in the name of an office complex for the OSP and its staff," he bemoaned, calling the venture wasteful.

He mentioned that the fight against corruption is a concerted effort, adding that corruption and thievery are not the same.

According to him, when one uses his position to employ a person who is not qualified for the job, it can be termed as he or she took a bribe from the unqualified employee so that is corruption.
"But when you are given a contract to construct a road and you pocket part of the money and do a shoddy job that's thievery," he asserted.

Thievery, he said, must not be confused with corruption.

You can also watch this episode of People & Places here: