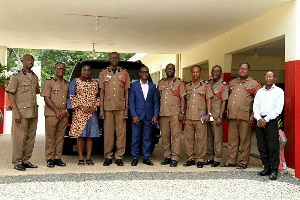 Wed, 30 May 2018 Source: Ghana Post
Some officials from the Ghana General Post Office, initiators of the Ghana Post GPS address system, have interacted with some officials of the Ghana National Fire Service (GNFS).
The purpose of the meeting was to enlighten the officers of the fire service on the importance of the digital address system, how it will serve the service and how it will help make their work feasible in terms of locating an area or residence during an outbreak or emergency.

The Ghana National Fire Service (GNFS) is one of the Agencies under the Ministry of Interior. The Objective of the service is to prevent and manage undesired fire.

A presentation was made by Mr. Jude Owusu Sekyere, an official from the Ghana Post Office, who also spoke on the benefits of the digital address system app and how the officers could access it.
He also said that the digital property address system covers every inch of the country and ensures that all locations in the country are addressed.

The National Digital Property Addressing system (NDPAS) was launched in October 2017 by the President of the republic of Ghana to provide effective means of addressing every location and property to facilitate the complementation of key Government Policies.

Also in attendance was the Fire chief Edwin Ekow Blankson, his deputies, Head of Public Relations James Oheneba Yaw Kwarteng and some junior officers.
Source: Ghana Post