Ofori-Ataa, Agyeman-Manu, others should have been awarded Order of Birim, not Volta – Asiedu Nketiah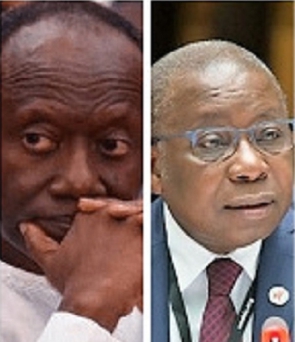 The National Chairman of the National Democratic Congress (NDC) has justified the rejection of the Order of Volta awards by some members of the party, which was conferred on some Ghanaians for their work in the government's COVID-19 efforts and recent achievements.
According to Johnson Asiedu Nketiah, the NDC members rejected the awards on principle because some of the awardees, including some ministers of state, took advantage of the funds raised for the pandemic and are the cause of the hardship in Ghana.

Speaking in an interview on Asempa FM on Wednesday, Asiedu Nketaih said that the Minister of Finance, Ken Ofori-Ataa, and the Minister of Health, Kwaku Agyeman-Manu, who also received awards, deserve the Order of Birim and not the Order of Volta because the Birim river is the most polluted in Ghana.

"Most of the awardees contributed to the messing up of the COVID-19 funds. And so, if people who have done wrong are being awarded what is the motivation for people who have worked hard to take part in it.

"I suggest that they change the name of the award to Order of Birim, they should remove the Volta from it. The Volta River is clean by the Birim is the most polluted in Ghana, that is what they deserve," he said in Twi.

About awards
Individuals, institutions, and partners who distinguished themselves in the fight against the COVID-19 pandemic, have been honoured by the state at the National Honours and Awards 2023, held at the Accra International Conference Centre.

Also receiving awards are members of the legal team, both men and women, who were charged with ensuring that the maritime boundary dispute with Cote d'Ivoire ended favourably for Ghana.

In all, some 19,557 frontline health workers received certificates and plaques for their dedicated services in the line of duty.

Additionally, about 50 individuals and entities also received the Order of the Volta – Companion awards, comprising members of the National COVID-19 Taskforce, Trustees of the Ghana COVID-19 Private Sector Fund, and International Tribunal for the Law of the Sea (ITLOS) Technical Team and Legal Advisors.

The national awards are presented to persons who have made immense and recognized contributions in sectors such as the civil service, military, prisons service, education and public health, agriculture, commerce and industry, the judiciary, scientific and other research, sports, culture and the arts, and the financial sector.
Watch a video of the interview below:



Meanwhile, catch up on the concluding part of Francis Addai-Nimoh's interview on GhanaWeb TV below:



IB/OGB