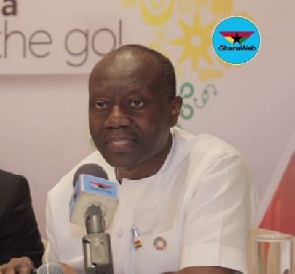 Finance Minister Ken Ofori-Atta will this morning face-off with the Dynamic Youth Movement of Ghana (DYMOG) at the Supreme Court over the controversial 2.25 million billion dollar bond.
DYMOG in January this year took Mr. Ofori-Atta, CHRAJ and the AG to the Supreme Court claiming CHRAJ in determining a petition on the bond, made some serious pronouncements, which in its view, contravenes aspects of the 1992 constitution.

Following the completion of the filling of the necessary processes by the DYMOG, the AG and Mr. Ofori-Atta, the Court has fixed May 10 to hear the various argument by the parties to enable the court deliver its judgement.

A hearing notice served on the parties read in part : " take notice that the above mentioned case has been set down for Thursday, 10th May 2018 at 9:30am for judgement"

Background
DYMOG on May 8, 2017 petitioned the Securities Exchange Commission (SEC) to investigate the transparency of the bond, its classification and a claim of possible conflict of interest in the issuance of the said bond.

The finance minister, in CHRAJ's view, breached that provision of the constitution.

CHRAJ further established Mr. Ofori-Atta's interest in Databank and Enterprise Group Limited whose objects are linked to the securities industry, places him in a high conflict of interest situation.


It again claimed Mr. Ofori-Atta's failure to declare all his assets in Data Bank Financial Services, Data Bank Brokerage Limited and Databank Financial Holdings Limited was a violation of Article 286 (1) (a) of the Constitution.

CHRAJ overstepped its remit

But DYMOG is accusing CHRAJ of going overboard to make some pronouncements on the matter that are outside its remit, something the group argued "constitute a blatant violation of our Laws".

'No issue for interpretation'
However the Attorney General and the Finance Minister in a joint statement of case filed at the Supreme Court said, "there is no single issue for interpretation or enforcement" of the 1992 constitution.

The two argued that CHRAJ did not err in anyway in making a determination on the case, which has formed the basis of the plaintiffs' instant action.

The AG and the Finance Minister averred that CHRAJ acted within the confines of the law in determining the matter, adding "the case of the plaintiff is based on the report of CHRAJ which is mandatorily required by the constitution to do so."

"Act 456 provides an avenue for redress, if the recommendations or the findings CHRAJ needing compliance is not satisfied within three months," the two defendants stated.


For them, "whether or not Mr. Ofori-Atta was guilty of conflict of interest situation regarding the issuance of the issuance of the government bonds is a duty conferred on CHRAJ by the constitution, 1992 and not the Supreme Court"

They are thus praying the Supreme Court to dismiss the case as the plaintiffs are just abusing the court process.