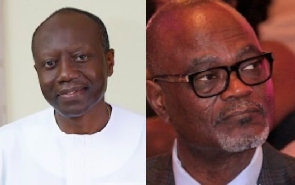 Dr Kofi Amoah, a Ghanaian economist and businessman, has urged the Minister of Finance, Ken Ofori-Atta, to step down from his role.
According to him, the minister's recent statements suggest that he is exhausted and not in the right frame of mind to continue in his role.

Dr Amoah, who made these remarks in a tweet shared on Saturday, May 27, 2023, added that Ofori-Atta must step down if he really wants Ghana to progress.

"FinMin is tired, confused n incoherent. If he truly wishes Ghana well, he must resign n give Ghana a chance for fresh air and a reset

"This is a serious appeal for action; let's stop the propaganda. Ghana needs to "come together" n rebuild," parts of the tweet read.

Dr Amoah made these remarks while reacting to an article on GhanaWeb on remarks made by Ken Ofori-Atta on Ghana's recent International Money Fund (IMF) Bailout.
The finance minister in the said article indicated that Ghana intends to take full advantage of her 17th IMF "bailout".

Answering questions from journalists during the Q&A session of a joint press conference in Washington following the IMF Board's approval of Ghana's programme, Mr Ofori-Atta said: "I think it's one of the major areas of anxiety for Ghanaians, as to what does the 17th time mean and where we're going to go from there".

The questioner had posed: "... Ghana has relied on the IMF for support 17 times, and the critics say the Fund, the support from the Fund, has never been a solution to their country's challenges. I would like to know what you make out of this?"

Mr Ofori-Atta responded: "If you realise, the programme is anchored by post-COVID programme where economic growth, which we developed ourselves; and if you look at the strategies that are in there, the issue of moving revenue from 13 per cent of GDP to 18 per cent is an important facet of this so that we have the resources to do what we have to do".

He said: "A strong sense of expenditure and economic bank controls will also be emphasised going forward", adding: "And the growth agenda is really strong".
'How do we create an enabling environment for investment to propel the private sector?"

"So, I think, it's that clarity that we have gone to the Fund, enough, and we should use this opportunity as a reset to move forward", Mr Ofori-Atta noted.

View the tweet below:


FinMin is tired, confused n incoherent

If he truly wishes Ghana well, he must resign n give Ghana a chance for fresh air and a reset

This is a serious appeal for action; let's stop the propaganda

Ghana needs to "come together" n rebuild

Read n Judge???????? https://t.co/aPLCzO5ybs

— CitizenKofi (@amoah_citizen) May 27, 2023
Watch the latest episode of The Lowdown below:


IB/OGB