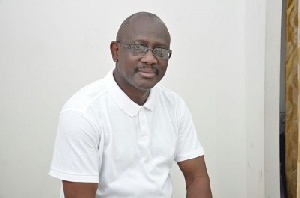 A Deputy Chief of Staff at the presidency and NDC Parliamentary candidate for Oforikrom in the Ashanti Region, Hon. Jonny Osei Kofi has highlighted sanitation and security as his top priority, ahead of 2016 general elections.
Mr. Osei Kofi revealed that, his constituency is underprivileged in terms of security and sanitation.

The Deputy Chief of Staff said sanitation-borne diseases such as cholera, which had claimed many innocent lives over the years, could be tackled head-on with the right attitude by the people towards good sanitation.

"Almost 70 per cent of homes in the Oforikrom constituency lack toilet facilities which is a basic need. If I am able to resource these homes with toilet facilities, then I believe we would be making a head way in avoiding loads of diseases"

"We have the responsibility of adhering to good sanitary practices in order to rid our environment of filth", he said,

He affirmed the government's commitment to resourcing the constituency to ensuring environmental cleanliness, and working effectively to improve the well-being of the people.

On security he said, he will establish Youth Centres in all the eight electoral areas in the Oforikrom Constituency, if given the mandate in the elections, saying, these centres would be equipped to train the youth in employable skills to help facilitate their career development and capacity building.
"There are groups called 'community watchdogs' mostly comprising the youth. Now if these young men are trained to keep watch, it will in a way create employment for them. This will also help the youth to desist from engaging in all sorts of vices that will deter the nation's development. "

Hon. Osei Kofi, hinted that the party's conviction of annexing the seat was based on its recent massive developments ongoing in the constituency.

He added that the electorate are yearning for a comeback of the NDC.

"Wherever we go the people are rooting for our return to take hold of the constituency" he said.

The deputy chief of staff said he is poised to wrestle the seat from the New Patriotic Party (NPP) in the December polls.