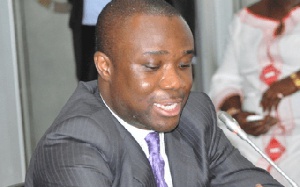 A former Deputy Minister of Communications under the John Mahama administration, Felix Kwakye Ofosu has described as insensitive the ruling government's decision to evict traders around President Akufo-Addo's house.
The shop owners who have been operating around the President's private residence for more than two decades have been given a March 15 deadline to relocate after receiving various compensation package.

The compensation package ranges between GHC3,000 and GHC10,000.

However the former Deputy Minister feels since the President has refused to move to the Presidential villa at the Flagstaff House, he should learn to live with that situation.
"I am not by any stretch of imagination criticising any move to enhance the security of the President; but that effort must respect the rights and livelihood of others...It is because we recognise the need to secure the President that a specific place has been provided with tax payers money for him and that is the villa attached to the flagstaff house. It is a very secure environment and whatever it is that is wrong with that place that makes it inhabitable; it's not beyond our capacity as a country to resolve for which reason it will become necessary to go and evict people living their lives. So I am opposed to this effort to alter and disrupt the lives of poor and vulnerable Ghanaians only because they live next to the President's house," he said.

"The President made a conscious decision not to live in the presidential villa so he must live with the consequence of that…that he is going to have to share his neighbourhood with others who have a legitimate right to earn a living…" he opined during a panel discussion on Radio Gold's Alhaji and Alhaji, Saturday.