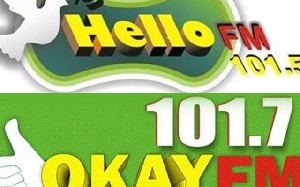 Two radio stations belonging to the Despite Group of Companies Limited, Okay FM in Accra and Hello FM in Kumasi, have been shut down by the National Communications Authority (NCA).
A statement from the NCA said the two stations had defaulted in making payments for license fees, and were said to have been operating illegally.

The two stations are part of 131 radio stations who are said to have violated aspects of the Electronic Communications Act and failed to renew their frequency renewal.

Meanwhile, Member of Parliament for Ningo Prampram, Sam George, has accused the National Communications Authority (NCA) of perpetuating an illegality in its decision to impose fines and close down media houses that failed to renew their licenses.

The lawmaker made the assertion on the floor of Parliament on Thursday, 19 October, 2017 when he was contributing to a statement by Communication Minister, Ursula Owusu-Ekuful, on powers of the NCA and its decision to close down some media houses in the country.
Contributing to discussions on the actions of the NCA, Mr Sam George further accused President Nana Addo Dankwa Akufo-Addo and the NCA of seeking to monetise free speech.

"The NCA, in imposing this kind of charge, did not come before this august house of Parliament, and as such, the NCA is carrying out and perpetuating illegality which this house must stop," he stated.

According to him, the schedule of penalties which the NCA is using to impose the fines on the media houses was gazzatted on 25 April 2015, and therefore, Parliament needed to approve any fees and charges imposed on media houses.

Mr Sam George further asserted that: "All five Presidents of this Fourth Republic, including our current President, His Excellency Nana Addo Dankwa Akufo-Addo, have all played a role in the entrenchment of the freedom of speech in this country. Under Jerry John Rawlings as President, we saw the opening up and the pluralisation of the media space in this country. President Kufuor came and entrenched the pluralisation of the media. President Mills continued and President Mahama did same. President Akufo-Addo, then as a lawyer, was one of the people who actually led for the pluralisation of media space in the Radio Eye space where he was counsel for Dr Charles Woreko Brobbey when the current President, as a lawyer, went to ensure that media plurality is entrenched in our law books. If post his position as a lawyer, today, the President has taken a position that we should monetise free speech, it cannot be said to be retrospective..."