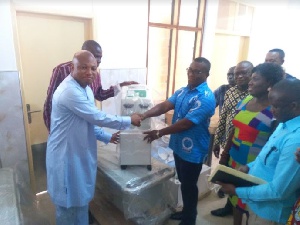 Wed, 15 Nov 2017 Source: Fred Quame Asare
The Member of Parliament for North Tongu, Samuel Okudzeto Ablakwa, has presented some requisite equipment worth GhC100,00 to the neonatal intensive care unit of the Battor Catholic Hospital.
This would help intensify and improve on healthcare delivery to premature infants admitted to the neonatal intensive care unit.

The Battor Catholic Hospital which serves residents from some parts of Volta, Eastern and Greater Accra regions has its neonatal intensive care unit lacking some vital equipment needed for the survival of premature babies.

The unit had been relying on obsolete methods to render healthcare to patients. Two "mushroom bulb" and fluorescent devices were designed by the Pediatrician, Dr Mrs Antoinette Ekuban, to serve as an improvised incubator at the unit.

Though the "mushroom bulb" and fluorescent devices have somehow served the purpose of an incubator, some 50 babies die from hypothermia-drop in body temperature, out of the 600 who report receiving healthcare at the unit annually.

This development prompted the MP for the area, Samuel Okudzeto Ablakwa, to present two incubators, an autoclave machine, baby cots, a theatre bed, a phototherapy machine, bed sheets, suction machine and 5 sets of oxygen flow meters to augment healthcare delivery at the unit.
"What is very significant about this donation is that the hospital does not have the items we are donating today especially incubators, they have a very famous neonatal intensive care unit but without an incubator, without a phototherapy... so we decided to make sure we address the urgent needs of the hospital first by donating this equipment."

He also assured the hospital of his continuous support until the facility is equipped with all requisite logistics needed for quality healthcare delivery.

"We have plans of further re-equipping this hospital, they need an ambulance and other equipment which we are working on", Mr Ablakwa said.

Management of the hospital thanked Mr Ablakwa for the presentation and, however, appealed for a quick delivery of the remaining items to augment healthcare delivery of the facility.

A Pediatrician in charge of the Neonatal Intensive Care Unit, Dr Mrs Antoinette Ekuban said "We are really grateful to the MP, we don't have to rely on primitive methods to provide healthcare to patients, I am optimistic no child will die at the unit when all this equipment are available.".
Source: Fred Quame Asare