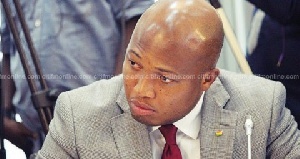 The Ranking Member of Parliament's Foreign Affairs Committee, Samuel Okudzeto Ablakwa has called for a dialogue between Nigeria and Ghana to resolve issues regarding the closure of border by Nigeria.
He, however, indicated that if they (Nigerians) fail to dialogue with Ghana, then Ghanaians have no option than to reciprocate.

Speaking to the media in Parliament House yesterday, Okudzeto said, "For now, I am recommending dialogue. Let us dialogue first. But if dialogue fails, in diplomacy, there is a principle of reciprocity, where we can also close our borders to the Nigerians."

It would be recalled that President Buhari in August, this year, ordered the partial closure of three borders to all movement of goods in order to check the illegal smuggling of food, especially rice, into the country.

Nigeria's Finance Minister, Zeinab Ahmed also indicated that the closure is not only to check the smuggling of food into the country, but also to prevent weapons and drugs from entering the country.

Many countries, including Ghana, have described the move as a breach of ECOWAS protocols and treaties and called for the reopening of the border, since it has had a toll on free movement and business within the sub-region.

The former deputy minister for Education also described the decision by Nigeria as a breach of ECOWAS protocols and treaties.
The Member of Parliament for North Tongu, said ECOWAS members are to come together and work without restrictions to movement from country to country, adding "that is why people with ECOWAS passports can visit any member country".

According to Okudzeto, it is quite unfortunate that the incident occurred at a time when all efforts were being made towards integration and how the 315 million population of the West Africa sub-region can come together to enhance trade, especially after the ratification of the African Continental Free Trade Area.

"We have been working towards integration and developments, such things take us back. It does not help the integration effort", he said, adding "we want an Africa and a West Africa that is integrated and that has a common market that is accessible to all and so for Nigeria to do what they have done, they need to be convincing us on what compelling reasons they have for doing what they did".

He said that the Foreign Ministry has had various engagements with them, but there has not been any improvement, hence the need to dialogue more or reciprocate.

"We believe that pressure ought to be brought on them to re-open the border. Whatever challenge that they have, they should bring them up at the governmental level, because it can be addressed. Closing your border is very drastic."

But the Chairman of the Foreign Affairs Committee, Mr Frank Annor Dompreh, who also spoke to the media indicated that reciprocity is not the way to go.
He agreed that the decision they (Nigeria) have taken is affecting a lot of people, but argued that "what is needed is dialogue and not reciprocity."

To him, what Nigeria has done is not to hurt Ghanaians, but to check the illicit smuggling of rice into their country by Beniniose and that Ghanaians should act with caution.

"What the Nigerians did was not good, but we can't reciprocate. Reciprocity is not the way to go at all. We are pleading with Ghanaians to keep calm for us to resolve the issue because if we should also close our border, there will be a lot of problems.

He said that Ghanaians should trust President Akufo Addo and his Ministers to resolve the issue.