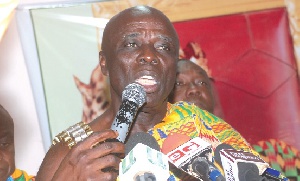 The Ministry of Lands and Natural Resources has said Okyenhene Osagyefo Amoatia Ofori Panin II has not been cited for galamsey.
A press statement signed by the Minister, Peter Amewu, noted that the recent report by the Bureau of National Investigations (BNI) on galamsey "did not accuse Okyenhene or the Palace of being complicit in illegal mining activities".

The statement dated May 8 added that checks by the Ministry indicates that the "last known environmental protection taskforce from the palace was disbanded over three years ago".

But "the Okyenhene's Foundation has rather been at the forefront of the fight against illegal mining and the ministry will continue to urge the Okyenhene, his foundation, and other authorities to continue supporting this fight to save the environment".
The ministry said it welcomed the support of responsible community action against illegal mining and thanked the general public and the media for their total support and commitment to the fight illegal mining in the country.