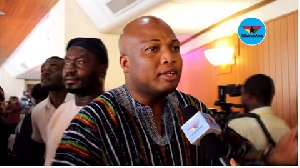 Member of Parliament for North Tongu Constituency Samuel Okudzeto Ablakwa says the two chiefs who have registered their opposition to position of the National House of Chiefs on the upcoming referendum are only undermining the authority of Togbe Afede XIV.
The Agbogbomefia of the Asolgi State, who is the President of the House, on Friday, November 15 issued a statement to canvass for a 'No' vote in the December 17 referendum.

Also signed by the Vice President of the House, Daasebre Nana Kweku Ewusi VII, the statement said the decision to reject the introduction of partisan politics in district level elections was reached based on recommendations of the Legal Committee of the House.

It said the framers of the 1992 Constitution had good reasons for protecting the local government system from partisan politics.

"We are therefore advocating for the outright rejection of the proposal to amend Article 55(3) of the Constitution," the statement stressed.

But some members of the House have expressed dissension over the stance taken by the House.
Notable among them are the Sefwi Anhwiasohene, Ogyeahoho Nana Yaw Gyebi II, and Okyenhene Osagyefo Amoatia Ofori Panin II.

While Ogyeahoho Nana Gyebi II said other members of the House were not consulted, the Okyenhene, who is the President of the Eastern Regional House of Chiefs, said the respective heads of the regional houses were not consulted before the decision was made.

But speaking on TV3's New Day on Monday, November 18, Mr Okudzeto Ablakwa said the two dissentient chiefs are being partisan with their positions.

He described the Sefwi Anhwiasohene as an appointee of the president, Nana Addo Dankwa Akufo-Addo, based on his membership of the board of the Ghana Petroleum National Corporation (GNPC) and the Okyenhene as the "president's chief".

"I think we need to be forthright about what has happened," he stated.
For him, the two chiefs are "rather undermining of the authority of the president of the National House of Chiefs".

He said even if they had concerns about the position of Togbe Afede XIV and his vice, the two chiefs could have convened a meeting of chiefs to discuss the issue.

The former Deputy Education Minister said there are 16 regions in Ghana and the position of two regional chiefs cannot change that of the National House of Chiefs.

"I think it is really unfortunate that you see this kind of undermining going on."

He considers the conduct of the two chiefs as not honourable.