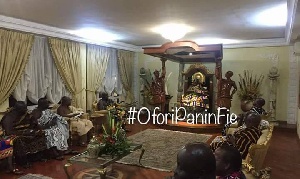 The perceived traditional rivalry between the Asantehene and the Okyenhene appears to have been broken as the two influential leaders have been seen together in images spotted by Starrfmonline.com.
The photos show the Okyenhene in the palace of the Asantehene in a gesture which has not been in centuries.

The two traditional leaders are believed to be subjects of long-held and sustained tension between their forefathers.

Some Ghanaian history books suggest the stale relationship between the Ashantis and the Akyems is traced to the series of ethnic and tribal fights of the past.
It is unclear the reason for the meeting between the two but Starrfmonline.com sources they are to play together in a golf tournament in Kumasi.

The visit comes few weeks after the Asantehene vented publicly over attempts by some individuals close to President Akufo-Addo to create enmity between him and the Akyem people.

The anger of the Monarch triggered a presidential visit to his palace in a matter of days.