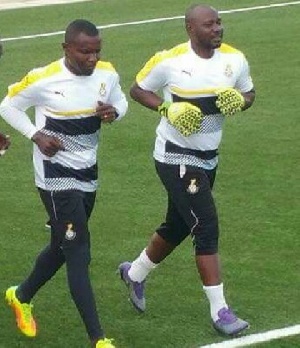 Black Stars goalkeepers Coach Richard Olele Kingston has called on Ghanaians not to be in a haste for the next substantive goalkeeper for the Black Stars.
With Razak Brimah fizzling out with an unimpressive show this season and Adam Kwarasey unwilling to don the national jersey anymore, the technical team have been in state of comatose as to who should be the number one.

But the former Ghana goalie says all must remain calm and not rush to make any hasty conclusion.

Three goalkeepers from the local league – Richard Ofori, Joseph Addo and Felix Annan - are currently contesting for the number one spot but Olele is optimistic the goalkeeping troubles will be dealt with.

"You see the desire for them to do something great for Ghana, but goalkeeping is a process and they need to go through that by making mistakes and learning from those mistakes.

"Through mistakes you can learn, through mistakes you become strong," he told KweséESPN.
Olele, who had a long stint as Ghana number one shot stopper over a seven-year period added he is always honoured to serve Ghana.

"I am always honest and happy to serve my country Ghana. It is a real honour.

"As a coach I am here to help the young ones to develop and the experienced ones to get their normal time," Kingson added.

"It gives me a lot of joy. It is something that I enjoy doing. I have become used it. I like to do it more than to eat food."

Kingson's last game for Ghana came in 2011, and he has since watched on as Adam Kwarasey, Fatau Dauda and Razak Braimah have tried and failed to make the position their own.