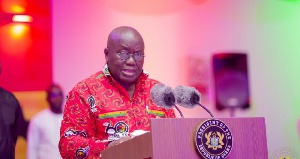 President Nana Akufo-Addo has said "the trial of people for corruption" is a "criminal" rather than a "political" one.
"We're not using it for political purposes", the president said in a social media post, adding: "We're doing it to enforce the criminal laws of our country."

The President's comments come a few days after five former officials of the National Communication Authority (NCA) were charged with various corruption-related offences.

Former Board Chair of the NCA in the Mahama administration, Eugene Baffoe-Bonnie, and four others, were charged and arraigned for willfully causing financial loss to the State contrary to section 23(1) and section 179(3)(a) of the Criminal Offences Act 1960, Act 29.

The five persons have also been charged for 16 other offences.

Facts of the Case
Eugene Baffoe-Bonnie, former Board Chairman of the NCA; William Tevie, former Chief Executive Officer of the NCA; Alhaji Osman, former Deputy National Security Coordinator, the State believes were aided by a private citizen, George Oppong to engage in the act.

According to the State, the previous administration had contracted an Israeli company, NSO Group Technology Limited, to supply listening equipment at the cost of $6 million, to enable the authorities to monitor conversations of persons suspected to be engaged in terror activities.

A local agent, Infraloks Development Limited, was also charging $2 million to facilitate the transaction, bringing the total sum to $8 million.

The State said National Security didn't have the money to fund the transaction, therefore, the NCA which has supervisory jurisdiction over the use of such equipment was asked to fund the project.

The officials withdrew $4 million from the accounts of the NCA and paid $1 million into the accounts of the Israeli company.
According to the State, the remaining $3 million was lodged in the accounts of George Oppong, who acted as a representative of the local agents, Infraloks Development Ltd. The entire deal was fronted by Alhaji Osman, the Minister claimed.

Class FM's Ibrahim Obeng-Mensah who was in court on Friday, 22 December, said the five accused persons pleaded not guilty when their pleas were taken after the Attorney General, Gloria Akuffo read the facts of the State.

Three of the accused persons present in court were granted bail by Justice Eric Kyei Baffour's court to the tune of $1 million each with 3 sureties and are to surrender their passports to the court Registrar.

The accused persons are expected to reappear in court on Tuesday, 9 January 2018.

President Akufo-Addo said: "One by one the trials will happen. We are all in this country, we have nowhere to go, we will see what will happen."