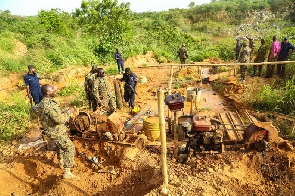 Correspondence from western region
A confusion that ensued between illegal miners and workers of Golden Star Wassa Mine at Benso in the Western Region has led to the death of one person with several others sustaining various degrees of injuries.

The illegal miners were mining in an old mining pit belonging to the company. This attracted the attention of authorities of the company who went there to sack the illegal miners, leading to an alleged exchange of gunshots which killed one of the illegal miners.

According to the Assembly Member of the Benso Electoral Area, Frank Jackso Afful, the illegal miners were taking the gunshot-wounded person to the clinic where he died on the way.

This angered the illegal miners who stormed the premises of the mining company destroying properties of the company worth thousands of Ghana Cedis.
"They burnt cars, dump trucks, machines, fuel tankers, excavators and destroyed over ninety percent of the company's property," the Assembly Member said.

He noted that "those who perpetrated this crime at the company are not indigenes of the community, they northerners who do not have any permanent place of abode, they don't rent any apartment, they live in tents so they move from one place to the other, they outnumber the indigenes of the community".

He explained that "calm has returned to the community but shops have closed and people didn't go to their farms because they do not want any problems".

He urged community members to exercise patience as they are putting measures in place to bring sanity into the community.