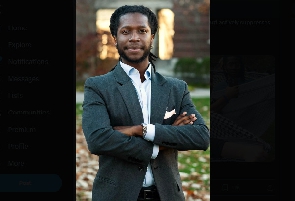 In a matter of hours, or a few days at most, an online petition aimed at getting the Harvard University to reinstate a Ghanaian student by the name Elom Tettey-Tamaklo, will reach its 5000-signature mark.
This follows earlier reports that Elom was allegedly evicted by Harvard for 'speaking out about Palestine' regarding the ongoing war between Israel and Hamas.

According to the pro-Palestine group, Harvard Undergraduate Palestine Solidarity Committee (Harvard PSC), the Ghanaian student has now been suspended as a residential advisor.

Harvard PSC, in a post shared on X on November 15, 2023, stated that Tettey-Tamaklo is facing disciplinary actions because he was brave enough to speak out about the atrocities happening in Gaza.

"Harvard is evicting a Black man, Elom Tettey-Tamaklo, for speaking out about Palestine. His crime? Protecting students from an instigator who tried to dox them. A senior university leader called Elom a 'gang' member and pointed to his residence in Harvard Yard.

"The university then suspended him as a residential advisor, citing 'student discomfort' and promoting racial stereotypes about violent and unsafe Black men. This is a blatant lie, as none of his students have raised any concerns. Harvard is setting a dangerous, ugly precedent: free speech ends when Palestine begins," parts of the post reads.
In the online petition on change.org, titled, 'Calling on Harvard to Reinstate Elom as Proctor,' and created on November 18, 2023, it said that people are enraged by the unjust suspension of the Ghanaian student.

The details in the petition also called out the school administration for promoting an erroneous description of the personality of the suspended student.

The following are details of the change.org petition for Elom Tettey-Tamaklo:

We are profoundly enraged by the unjust suspension of Elom Tettey-Tamaklo from his position as a first-year proctor at Harvard University. Elom was suspended for expressing his views on Palestine; an act that is not only protected under the First Amendment but also fundamental to any thriving academic institution.

As a community deeply invested in the principles of academic freedom and free expression, Harvard is setting a dangerous, ugly precedent: free speech ends when Palestine begins. This is particularly concerning given that universities are supposed to be bastions of free thought and intellectual exploration. The American Association of University Professors (AAUP) has long championed academic freedom, stating that "institutions of higher education are conducted for the common good... [which] depends upon the free search for truth and its free exposition" (1940 Statement).
The characterization of Mr. Tettey-Tamaklo as a "gang leader" by a senior university official further exacerbates this issue, demonstrating an alarming level of bias and prejudice within an institution renowned globally for its commitment to diversity and inclusion.

We urge Harvard University to uphold its commitment to these values by reinstating Mr. Tettey-Tamaklo immediately and issuing an apology for their actions against him. By doing so, they can send out a strong message about their dedication towards protecting students' right to express their opinions freely without fear or prejudice.

Ghana's leading digital news platform, GhanaWeb, in conjunction with the Korle-Bu Teaching Hospital, is embarking on an aggressive campaign which is geared towards ensuring that parliament passes comprehensive legislation to guide organ harvesting, organ donation, and organ transplantation in the country.

AE/OGB