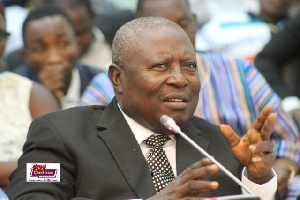 The Special Prosecutor, Martin Alamisi Amidu, has said the only thing that can stop him from investigating and prosecuting corrupt Members of Parliament (MPs) and members of the executive will be for him to be impeached.
According to the Special Prosecutor, MPs cannot be exempted in the pursuit of corruption as far as he remains in office as the first Special Prosecutor.

"The solution to gaining exception for Members of Parliament from investigation and possible prosecution for suspected corruption offences is to get the first Special Prosecutor out of office in a bi-partisan manner by impeachment or to allow the appropriate independent constitutional institution to do so", a statement from the Special Prosecutor's office said.

Refuting media reports which cited the Majority Leader, Osei Kyei-Mensah-Bonsu as saying the SP's office has a tall list of MPs cued for prosecution, the SP's office said only nine MPs have so far been invited and that, that number does not amount to a tall list.

"The Office of the Special Prosecutor wishes to state that nine out of 275 Members of Parliament cannot by any acceptable use of the English language be said to be a tall list even for the purposes of an invitation to release Members of Parliament to assist the investigation of corruption offences", the office explained.

The office described the Majority Leader's comments as falsehood, maintain that for the purposes of transparency and accountability, the air ought to be cleared.
It however said if need be that a tall list of MPs up for prosecution be made available, the office will do so without fear or favour, but feared that could be an indication of some gargantuan corruption in the system.

"When the list gets tall it will mean that the stables of corruption are getting very dirty and smelly and need to be cleared vigorously."

"The Office of the Special Prosecutor shall, particularly, under the present first Special Prosecutor continue to invite members of both the Executive and Parliament without fear or favour, affection or ill will, to assist the Office in investigating the suspected commission of corruption and corruption-offices or as witnesses in such cases as required by the mandate of the Office", it continued.

The office of the Special Prosecutor assured the public of its commitment to fighting corruption using the available constitutional framework.

The first case of the Special Prosecutor involving the MP for Bawku Central, Mahama Ayariga, has triggered a conversation about the legality or otherwise of sitting MPs being sued.