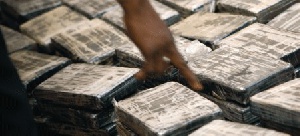 A simultaneous counter-narcotics operation in Ghana and Nigeria has resulted in the seizure of 596.338kg of cannabis, 15.7kg of cocaine. 9.21kg of heroin, 8.17kg of methamphetamines, 4kg of khat as well as 267 tramadol pills (225mg).
The operations also arrested 22 suspects with $22, 000 USD cash over a period of two months.

In a statement issued by the joint anti-narcotic forces from Ghana and Nigeria, their operational effort also generated knowledge and intelligence-related with other forms of organized crime namely: the identification of 20 potential victims of human trafficking; circulation of travel documents for potential use in illicit activities; movement of high value assets linked to money laundering; tax evasion modalities; new methods of drug concealment and suspected cyber-related offences.

"129 law enforcement personnel were involved in the operation. Following detailed analysis and planning, law enforcement actions against drug trafficking and related organized crimes were intensified at key cross-border points of both countries comprising land borders and airports, including postal and courier services" the statement reads further.

"To respond to the illicit activities of criminal groups that are not limited by national boundaries, both countries enhanced the responses through this actions in this joint operation to detect, seize, arrest and prosecute those involved in the trafficking of drugs and related organized crimes.
The interception of illicit drug consignments bound to Europe, USA and Asia, either directly or via transit zones in Ghana and Nigeria was one of the main objectives to boost enforcement responses.

Throughout the operation, UNODC supported the planning processes, as well as the deployment of liaison officers that facilitated real-time information exchanges and coordination between both countries", the statement emphasized.

Read below the full statement