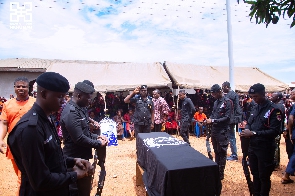 Minister of Information Kojo Oppong Nkrumah, on Wednesday March 22, attended the funeral ceremony of the police dispatch rider who died earlier this week in the line of duty.
L/Cpl. Mustapha Mohammed, according to a Daily Guide nespaper report lost his life while pursuing a Toyota Corolla vehicle on his motorbike from Ofankor, a suburb of Accra.

The Toyota Corolla vehicle is said to have hit the dispatch rider when he approached him to slow down. The rider then fell and unfortunately was dragged under a moving truck which crushed him to death.

The newspaper said the deceased was formerly with the Rovers Unit and had served as a dispatch rider assigned to Information Minister, Kojo Oppong Nkrumah.

"Earlier today in Kokoa near Sampa in the Bono Region, I joined the Ghana Police Service and family to lay to rest , Lance corporal (L/CPL) Mustapha Mohammed," the Minister tweeted with photos of the solemn ceremony.

"It is heartwrenching to see a sweet soul like you treated with such cruelty. May God heal our pain and give you rest my friend. We will miss you. Ride on Moh !! Rest well !!" he added in a followup tweet.

The Daily Guide noted that the driver of the Toyota vehicle sped off immediately after the incident.
"The motorbike of the police officer was badly mangled while his helmet was also crushed by the truck, which caused him head injury leading to his death," Daily Guide stated.


It is heartwrenching to see a sweet soul like you treated with such cruelty. May God heal our pain and give you rest my friend.

We will miss you

Ride on Moh !!

Rest well !! pic.twitter.com/L9kCoQO9CO

— Kojo Oppong Nkrumah (@konkrumah) March 22, 2023
You can also watch this episode of People & Places here:


Watch the latest episode of The Lowdown below:



SARA