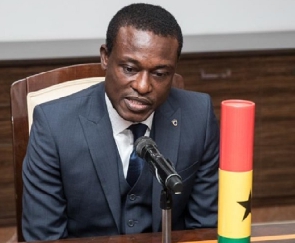 The Minority in Parliament has raised doubts about the efficacy of Ghana's Office of the Special Prosecutor (OSP) since its establishment, citing a lack of successful prosecutions for corruption.
The group contends that despite the existence of numerous investigative bodies in the country, the OSP has been unable to achieve tangible results.

Speaking to journalists, Governs Agbodza, the Minority Chief Whip, expressed skepticism about the necessity of the OSP in light of other investigative entities such as the Economic and Organised Crime Office (EOCO), Criminal Investigations Department (CID), and the Financial Crime Unit.

He highlighted that the OSP had not achieved a single successful prosecution or punishment for corruption-related offenses.

The Minority Chief Whip questioned the usefulness of the Special Prosecutor's office, stating, "While some of us believe that that office was needless because EOCO, CID, and the financial crime unit, all those offices can combine and do a good job, the government insisted that the OSP will do more jobs. Are you aware that as we speak, they have not been able to successfully prosecute a single case, and anybody punished? So the question is how useful is that office? So we are saying that other people could have done the same thing."
In addition to their concerns about the Special Prosecutor's office, the Minority also demanded that the government address the outstanding debt of ¢4 billion owed to the District Assemblies Common Fund before the Finance Minister presents the mid-year budget review on July 25.

Governs Agbodza emphasised the importance of these funds, which are used by district assemblies for critical interventions in various communities, such as repairing school buildings, supporting health services, and improving local roads. He stressed that the owed funds, which are meant to be allocated from collected taxes, should be released to the common fund administration and subsequently distributed to the district assemblies.

Highlighting the urgency of the matter, Agbodza stated, "We are told that the finance minister will present the budget on 25th July. It will be very helpful if the minister makes some releases to the common fund administration for onward transmission to the various district assemblies before the budget. It will make the presentation much more meaningful."

The opposition's skepticism regarding the effectiveness of the Office of the Special Prosecutor and their call for the payment of owed funds to the District Assemblies Common Fund adds to the ongoing debate surrounding corruption and governance in Ghana.