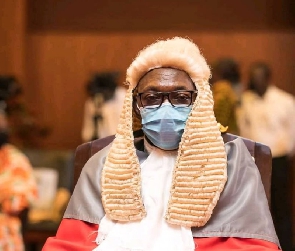 Tue, 31 Jan 2023 Source: GNA
An Accra High Court will on Tuesday hear a motion for a stay of proceedings pending the determination of an interlocutory appeal filed by Dr Stephen Opuni, a Former Chief Executive of COCOBOD.
It ordered the Registrar to ensure that the prosecution and Counsel for Mr Seidu Adongo, a Businessman and Agricult Ghana Limited (A2/ A3), were served by 1 pm Monday, January 30, 2023.

The Case has been adjourned to Tuesday 31, 2023.

The motion, which was earlier fixed for hearing by the Registrar of the Court on February 2, 2023, was against the Court's earlier decision of dismissing one of the accused person's applications.

Dr Opuni and Agongo, a Businessman, are facing 27 charges, including defrauding by false pretences, wilfully causing financial loss to the State, money laundering, and corruption by a public officer in contravention of the Public Procurement Act.

They have both pleaded not guilty to the charges and are on a GH¢300,000.00 self-recognizance bail, each.

Earlier, Stella Ohene-Appiah, Principal State Attorney, told the Court presided over by Justice Clemence Jackson Honyenuga that they had not been served by the Counsel for Dr Opuni, though she had seen a copy from the Counsel.
She prayed the Court to abridge the time to today, Monday, January 30, 2023, for the continuation of the cross-examination of the seventh Defence Witness by Counsel for Adongo and Agricult Ghana Limited (A2/A3).

The prosecution told the court that they wanted the time to be abridged to respond on point of law because the motion was an all too familiar application and the court should not adjourn.

She said another adjournment would seem like the applicant had been given the opportunity to disgust to sidestep the unanimous decisions of the Supreme Court, earlier.

Ohene-Appiah said it was right that the pendency of an interlocutory did not operate as a stay of proceedings unless the court or an appellate court expressly ordered so.

Samuel Cudjoe, Counsel for Dr Opuni, said the submission of the prosecution was against article 129(3) of the Constitution.

"The submission is also against the prosecution's own argument at the Supreme Court."
He said the court could abridge the time, but he was not prepared and ready for his argument in court because he was guided by the date given by the Registrar of the Court.

The Counsel said it would be unconstitutional for the court to go ahead without hearing the application.

Nutifafa Nutsukpui, Counsel for Agongo, said they believed that the second and third accused persons were entitled to be served with copies of the motion filed before the court.

He said it was their prayer that they would be afforded the opportunity to be served before the application was heard.
Source: GNA