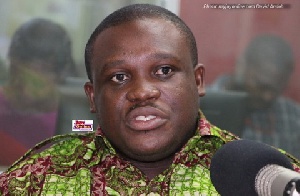 Member of Parliament for Ningo-Prampram Sam George has described the attempts to prosecute former Chief Executive Officer of the Ghana COCOBOD Dr Stephen Opuni as an exercise in futility.
Some 27 charges including willfully causing financial loss to the state have been proffered against Dr Opuni in a case set to be called on 23 March 2018 at the Accra High Court.

Reacting to this development, the Ningo-Prampram MP said the move is an agenda to witch-hunt Dr Opuni who rather deserves praise for the manner he managed affairs during his tenure at COCOBOD

According to him the cocoa sector saw massive improvements under Opuni not to mention his free fertiliser policy and the cocoa-roads.

Sam George speaking to Class News said the trial of Dr Opuni is just a diversionary tactic employed by government to cover up rot under the Akufo-Addo-led administration.

He said: "This government has shown that whenever it is exposed and stripped naked and is revealed to the Ghanaian public for what it's truly made up of as a bunch of corrupt nepotistic individuals who are raping this country dry, all they engage in is diversionary tactics.
"The MD for BOST has been accused yet again for the umpteenth time in this administration of gross acts of corruption. You remember that when he was accused previously, my colleague in parliament, honourable Ken Agyapong dared anybody in the NPP including the president to try and touch him and all hell will break lose in the NPP. Few days later, the president cleared him of all wrong doing.

"Again, he's been accused of gross financial malfeasance by COPEC and again you can see the diversionary tactics of the government trying to bring up this Opuni case which will amount to nothing. I mean this case about Dr Opuni and a private businessman Seidu Agongo is really much ado about nothing."

In his estimation the current CEO of COCOBOD, Mr Joseph Boahen Aidoo and President Akufo-Addo should rather be charged in court for causing financial loss to the state for halting the construction of cocoa roads.

"Look, if anybody has to stand trial in our current Ghanaian courts, it is the current CEO of COCOBOD and His Excellency the President himself, Nana Addo Dankwa Akufo-Addo for willfully causing financial loss to the state…Cocoa road contracts were awarded and many of these contracts had gotten to prima seal stage, sub base structures had been put in place before the loss of the election by the NDC in 2016."

"This government 15 months down the line have demobilised all contractors and asked them to leave because you think they are phantom projects and you think that you want to witch-hunt some people. The rains have come already and we are about to enter the second season of rain under this administration and the prima sealing and base structure on most of those roads have been washed off and eventually when this government asks those contractors to go back to site, you think that the cost of the roads are going to be the same? There is going to be variations in some instances as high as 25 per cent. Who has willfully occasioned that loss to the Ghanaian taxpayer, is it not this current CEO and the President.?"