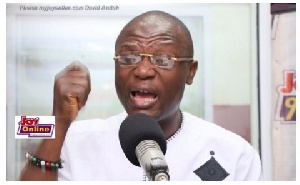 The National Organizer of the opposition National Democratic Congress (NDC), Kofi Adams, has denied reports that his party bused party sympathizers to support Dr. Steve Opuni in Court on Monday 26th, March 2018.
Dr. Steve Opuni and his business partner, Seidu Adongo, CEO of AgriCult Ghana Company are facing 27 counts of causing financial loss of GHS217million to the state, through separate fertilizer supply contracts between 2014 and 2016.

Reports reveal that five buses containing NDC supporters arrived from Ashanti Regional capital, Kumasi.

NDC Deputy Communications Director, Kwaku Boahen, mentioned that the supporters are interested in the case just as journalists are also interested in reporting on the case.

However, speaking to Ekourba Gyasi on Atinka AM Drive, Kofi Adams explained that the NDC sympathizers that came to witness the Opuni's trial came on their own and were not bused.
"Sometimes people just put things out there and just to give a different perception of what really happened. Of course, people may want to go and show their support which does not necessarily mean that we bused people," he fumed.

He insisted the trial is a persecution and not a prosecution and so the party will continue to solidarize with Opuni until the end of the trial.