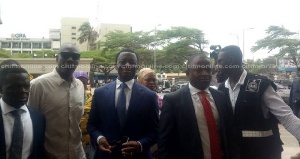 An Accra High court has adjourned a case involving former Chief Executive of the Ghana Cocoa Board (COCOBOD) Dr Stephen Opuni and businessman Seidu Agongo, to the 11th of April.
Dr Opuni and Mr Agongo are facing 27 charges of willfully causing financial loss of GHS217million to the state, through three separate fertiliser supply contracts between 2014 and 2016.

The contracts were GHS43.1million (2013/2014 cocoa farming season), GHS75.3million (2014/2015 cocoa farming season) and GHS98.9million (2015/2016 cocoa farming season) totalling GHS217million through sole-sourcing, the state claimed, adding that procurement procedures for sole-sourcing were not followed.

According to the charges, the consignments of Lithovit Foliar were produced locally, contrary to an agreement between COCOBOD and AgriCult Ghana Company Limited that it be sourced from Germany.

They made their first appearance in court on Monday, March 26. After the hearing, the Attorney General Gloria Akuffo told journalists that: "The judge who is handling the matter is a court of appeal judge who sits as an additional high court judge in the high court.

"What he has done to give an indication is that he wants to hear this matter expeditiously. I think that largely lawyers on both sides have cooperated, we went into chambers and the case has been adjourned to the 11th of April."
Meanwhile, the two accused persons pleaded not guilty to all the counts of charges preferred against them, including willfully causing financial loss to the state and defrauding the state by false pretences.

They were granted bail.

Dr Opuni was admitted to bail to the sum of GHS 300, 000 and again deposit his passport with the Criminal Investigations Department (CID) of the Ghana Police Service and again report himself to the CID anytime he wants to travel outside.

Businessman Mr Agongo and Agricult Company was also admitted to self-recognisance bail with an amount of GHS 300,000 cedis and he is to deposit his passport with the CID as well.