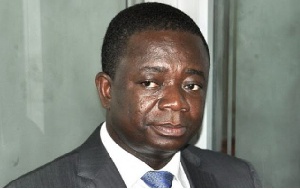 Dr Stephen Opuni, former Chief Executive Officer (CEO) of the Ghana Cocoa Board (COCOBOD), who is standing trial with businessman Seidu Agongo for causing financial loss to the state, ordered that the testing of Lithovit Foliar fertiliser be truncated 6 months after the testing started, prosecution witness, Dr Franklyn Amoah, has said.
Dr Amoah, who is the Executive Director of the Cocoa Research Institution of Ghana (CRIG) explained in court on Monday, 16 July while testifying against Dr Opuni and Mr Agongo that fertilisers are mostly tested for a minimum of two years and maximum of three years before they are released onto the market.

But during the testing of Lithovit Foliar, he said Dr Opuni ordered that the exercise be stopped six months into testing.

He told an Accra High Court presided over by Justice Clemence J. Hornyenuga that Dr Opuni said he needed the fertiliser on the market as early as possible to prevent companies from monopolising the agrochemical market, hence the order to stop the testing.

Class 91.3FM's Joshua Kodjo-Mawuli Mensah who was in court, reported that Dr Amoah further told the court that Dr Opuni used the same formula at the Food and Drugs Authority when he was the CEO and that resulted in the influx of a variety of medicines, especially painkillers on the market.

Dr Amoah also told the court that although powdery Lithovit was tested by CRIG, what was procured by COCOBOD and later released onto the market was the liquid version.
Dr Amoah also said Lithovit was found to enhance growth of cocoa seedling and dry matter yield during the six-month testing period.

The case was adjourned to 23 July 2018 for Dr Opuni's lawyer, Sam Cudjoe, to continue with his cross examination.

The other adjourned dates are 8, 10 and 12 October 2018.

Dr Opuni, Mr Agongo and AgriCult Ghana Company Limited, are facing 27 charges of willfully causing financial loss of GHS217million to the state, through three separate fertiliser supply contracts between 2014 and 2016.

The contracts were GHS43.1million (2013/2014 cocoa farming season), GHS75.3million (2014/2015 cocoa farming season) and GHS98.9million (2015/2016 cocoa farming season) totalling GHS217million through sole-sourcing, the state claim