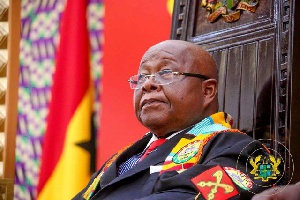 The Coalition of Gospel Churches and Ministers, Ghana, has described attempts by Parliament to regulate churches as "an evil attempt to fight the church".
Parliament, on Wednesday, 29 May 2019 advocated legislation to clamp down on what the chamber termed abuse of congregants, especially by one-man churches.

In a statement on the floor of the house on the activities of churches, the MP for Mfantseman Constituency, Mr Ekow Hayford said it is about time the state took drastic action against pastors who abuse people's right.

He called for legislation and an independent body to manage church activities in the country.

Contributing to the statement, the MP for Ablekuma Central, Mr Ebenezer Nartey, argued that some pastors do not deserve the title.

He cited instances where some of them distribute lotto numbers, sell paraphernalia at exorbitant prices, among others as things that should be condemned.
The Speaker of Parliament, Prof Aaron Mike Oquaye gave the joint committees of Youth, Sports and Culture as well as the Constitutional, Legal and Parliamentary Affairs Committee a one-month ultimatum to investigate and report back to the house on how best to regulate the activities of churches in the country.

However, the Coalition of Gospel Churches and Ministers, Ghana, in a statement, said: "It is very sad to hear a Reverend Minister of the Gospel who was supposed to have defended the faith, turned against Christendom and has gone ahead to fight the Church at this time."

The statement added: "We wish to inform the Speaker of Parliament of Ghana, Prof Aaron Mike Oquaye and the entire Parliament that they have no right to regulate the Church.

"The reasons being that:

1. There are credible bodies like the Christian Council, Pentecostal and Charismatic Council and the fathers to correct any wrongdoing if there is any;
2. There are already laws and law enforcement agencies to fight crime; why not empower them?;

3. The Constitution permits freedom of religion;

4. This is an evil attempt to fight the church;

5. They are misinformed on who is a Christian of the Church.

"We are sounding a word of caution to them to desist from this evil adventure and focus on how to improve the livelihood of Ghanaian."