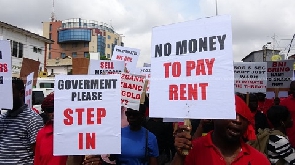 Convener of Aggrieved Menzgold Customers, Fred Forson, has once again called on President Nana Addo Dankwa Akufo-Addo to order a bailout for affected customers amidst the ongoing criminal proceedings in court against the CEO of the defunct gold dealership firm, Nana Appiah Mensah, popularly known as NAM1.
He also said President Akufo-Addo should act on the petition submitted to him by the aggrieved customers on compassionate grounds.

In an interview with Citi News, he said, "His Excellency, the President, on compassionate grounds, should also give action to the petition that we submitted to him. That he should order a bailout for affected customers while the criminal proceedings run in court."

Fred Forson assured customers that the leadership of the group is trying its best to secure their principal investments.

"We want to say that customers should be rest assured that leadership is doing everything possible to ensure that we retrieve the very principal that we invested in Menzgold. We want them to keep heart," the convenor of the group stated.

The aggrieved customers made the call following the new charge sheet filed against NAM1 by the state.

NAM1 has been slapped with 39 counts of defrauding by false pretense, engaging in gold trading without a license, and money laundering.
Meanwhile, the Attorney General, Godfred Yeboah Dame, has said justice will be served all Menzgold customers.

It would be recalled that 2018, Menzgold was asked to suspend its gold trading operations with the public by the Securities and Exchange Commission (SEC).

According to SEC, Menzgold had been involved in the purchase and deposit of gold collectables from the public and issuing contracts with guaranteed returns to clients without a valid license from the Commission.

This was in contravention of "section 109 of Act 929 with consequences under section 2016 (I) of the same Act," according to the SEC.

SA/NOQ

Ghana's leading digital news platform, GhanaWeb, in conjunction with the Korle-Bu Teaching Hospital, is embarking on an aggressive campaign which is geared towards ensuring that parliament passes comprehensive legislation to guide organ harvesting, organ donation, and organ transplantation in the country.
Watch the latest edition of BizTech and BizHeadlines below:





Click here to start the nomination process for the 2023 GhanaWeb Excellence Awards