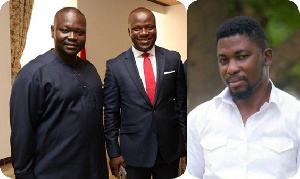 Governance expert, Professor Albert Puni has called on President Nana Akufo-Addo to commission fresh enquiry into the allegations of corruption made against two Deputy Chiefs of Staff, Francis Asenso-Boakye and Samuel Abu Jinapor, by Kwame Asare Obeng, otherwise referred to as A-Plus.
This according to the Dean of Graduate School at University of Professional Studies, Accra will not only bring clarity and "proper closure" to the graft allegations against two of his employees at the seat of Presidency but also give meaning to the President's mantra of eliminating corruption in his government.

He was speaking to Bright Kwesi Asempa, host of Onua FM's morning show Yen Nsempa. A-Plus in a Facebook post last month threatened to expose activities of some members of the New Patriotic Party (NPP) who are in government, if he is pushed to the wall, and went further to make several allegations of fraud and corruption against the deputy Chiefs of Staff.

Following the allegation, President Akufo-Addo ordered the Financial Forensic Unit of the CID to look into the matter, thus compelling the police to extend an invitation to the two New Patriotic Party (NPP) faithful to help investigate the matter.

However, the Criminal Investigation Department of the Ghana Police Service threw out the allegation describing it as "baseless, unsubstantiated and without credibility," according to a letter signed by the Commissioner of Police, Bright Oduro.
But in a twist to this, enters a leaked audio where a senior female police officer ACP Maame Yaa Tiwaa Addo-Danquah was allegedly heard suggesting the allegation against the two Deputy Chiefs of Staff was "not far from right".

In order to protect the image and reputation of the Police Service, Professor Albert Puni is calling for a neutral body to conduct a fresh investigation beginning with the allegation against the duo as well as the origin, authenticity, and motive of the leaked audio.

"I will encourage a fresh investigation into this whole issue. It bothers on integrity of the CID as a body, the officer in the center of the issue as well as the president's declaration on fight against corruption, so if this one is coming from the Flagstaff House, there must be another investigation, he must not let it go" he opined.

The law must be allowed to work and if we say we are a country that cherishes rule of law, then a neutral body like CHRAJ or any other independent body should be put in place to do a thorough job on this latest development, Professor Albert Puni said.