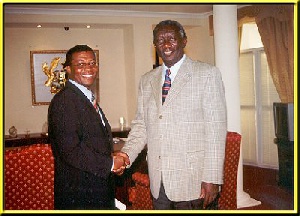 Tue, 19 Apr 2011 Source: The Herald
Mr. Kofi Osei Ameyaw, a leading member of the New Patriotic Party (NPP) in the Asuogyaman Constituency and one-time Member of Parliament (MP) of the area and Deputy Minister of Tourism in the Kufuor-led government, is being accused by his siblings of duping them of the property their father left for them.
They have declared that the ex-MP and brother, is not fit to represent the constituency once again in Parliament because of his dubious character.

"We shan't vote for him, he is simply not fit for that position", charged Ameyaw's siblings, adding that "he signed a contract with our dead father, who passed away over 40 years ago".

Meanwhile, The Herald is informed that a case of fraudulent documentation has been reported against the ex-Deputy Minister at the CID headquarters in Accra, by Mrs. Sally Jacobs begin_of_the_skype_highlighting end_of_the_skype_highlighting, a daughter of one of those affected by Osei Ameyaw's alleged machinations.

According to one of the sisters of the ex-MP, Efua Serwa Osei, their father, Opanin Kwaku Osei, died in 1971, interstate, leaving six shops which were shared among his children at Atimpoku, near Akosombo, in the Eastern Region.

These six wives, altogether, gave him 18 children, including the ex-Deputy Minister. The shops were shared according to the number of wives, hence, irrespective of the number of children each woman brought forth, they were entitled to only one shop.

Efua said she does not share the same mother with Osei Ameyaw, and that when her mother died, her shop was passed on to her (Efua Serwa Osei) and her full siblings.

Efua Osei said sometime in 2007, Osei Ameyaw approached her with the idea of renting her shop.
But before she could agree and dispatch the one who was using the shop at the time, Osei Ameyaw had already taken over the property, and started renovating it in preparation for a bank, the Asuogyaman Rural Bank, at Atimpoku.

Osei Ameyaw appropriated the three shops without her consent and that of his other half siblings, who had rented them out.

He hurriedly renovated the shops, and converted them into the structure housing the Asuogyaman Rural Bank, which he owns.

Interestingly, the shops converted to the bank did not include the one left by Osei Ameyaw's father for him and his direct siblings.

Efua Osei said all efforts to get Osei Ameyaw to sit down and enter into tenancy agreement with her proved futile, until one day he turned up with a document headed: *Tenancy Agreement Between Opanin Kwaku Osei And Asuogyaman Bank*, for her to sign.

She said when it was pointed out to him that the document, which bore the indication of having been prepared by the prominent law firm, Kulendi @ Law, meant an agreement between Opanin Kwaku Osei (who died forty years ago) and Asuogyaman Rural Bank, the ex-Minister who is also a lawyer, quickly withdrew it.

Subsequently, he brought another one, though with the same content as the first one, but the title changed to: *Tenancy Agreement Between Opanin Kwaku Osei Family and Asuogyaman Rural Bank.*
She said she still refused to sign even the second document because it was solely crafted by Osei Ameyaw, apparently the tenant, without any input from her, the landlady.

According to her, for four years now, she and her other siblings have never received any money by way of rent over their property hijacked by Osei Ameyaw.

"Whereas before then, I used to be paid rent for the use of the property, Osei Ameyaw, since he forcibly grabbed the property, has never paid me a persewa for using it", Efua Osei told The Herald.

She said the supposed agreement document, which even bore a faulty title, was signed fraudulently by other half siblings who had no right to the shops in question because their shops were not affected.

According to her, all efforts to get Ameyaw to do the right thing failed, and they (those whose shops had been commandeered) had to turn to the Koforidua High Court in the Eastern Region, to seek redress in the matter.

But even that has come to no avail, she lamented to The Herald, saying that Osei Ameyaw had boasted that the matter would never be heard. And true to his words, the court in Koforidua, till date, has been adjourning the matter with Osei Ameyaw never showing up in the court for once.

The court, having observed Osei Ameyaw's refusal to show up in court, and the incessant adjournments, advised that the matter, being a family feud, be handled by the Alternative Dispute Resolution (ADR) outfit.
This also has not worked, Madam Serwa Osei told The Herald, adding that the matter has been sent back to the court in Koforidua on the demands of Osei Ameyaw through officials of the bank.

In all, according to her, Osei Ameyaw had failed to attend court in the matter for 21 times.

"How can a brother be so wicked like this to a sister like me, who is capable of giving birth to him", wondered Felicia Asabea Osei, 77, who is capable of giving g birth to Osei Ameyaw.

She and other sisters said Osei Ameyaw is greedy and unfit to be a leader, and, therefore, should be rejected at the NPP primaries tomorrow, to become the constituency's parliamentarian.

When The Herald put the matter before Osei Ameyaw, he said his siblings were simply out to tarnish his image. He said the properties in question did not belong to anyone in particular, and that the six shops could not have been shared among the 18 children of his father.

Rather, it was he who organized for a deteriorating property to be renovated and given an added appreciation, he told The Herald, after accusing this reporter of taking a bribe from his siblings to publish falsehood against him that will jeopardize his chances at getting back to Parliament, come 2012.

He said GH¢4, 0000.00 being money accruing from the renting of the property, was spent on the funeral of one his half siblings, Madam Rosemary Owusu-Ansah, who was gruesomely murdered in February 2007, at her McCarthy Hill residence in Accra.
Days before her untimely death, the late Rosemary is said to have almost fought the ex-Minister over the property.

Angered, the deceased's daughter, Madam Sally Jacobsbegin_of_the_skype_highlighting end_of_the_skype_highlighting, has refuted Osei Ameyaw's claim, describing it as "a blatant lie".

"When he came to my mother's funeral, he donated only GH¢50.00. But when he realized that the gesture did not befit his status as a deputy minister, he told my brother (that is, he Osei Ameyaw's nephew) that he should tell the gathering, he was donating GH¢1,000.00", said Sally Jacobs.

She has disclosed to The Herald that, she has been given the power of Attorney by her uncle, Isaac Osei, who lives in the United States of America, and is contesting Osei Ameyaw for the property, to ensure that the proper thing is done.

*Stay in touch with The Herald for more on this saga. *
Source: The Herald