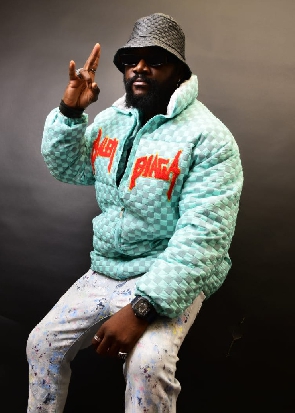 Thu, 1 Jun 2023 Source: GNA
Ivorian-born singer and versatile artist, Easy Montana, is gearing up to release his much-awaited single titled 'Faan Yogoo' on July 02, 2023.
With his distinctive style rooted in Afro-Pop, Easy Montana is poised to captivate his fans once again, urging them to expect a groundbreaking musical experience that transcends borders.

Having honed his craft and passion for music since 2007, Easy Montana's talent and unique sound quickly gained recognition beyond his home country of Ivory Coast during his time in Ghana. It was there that he earned the nickname "Easy" and established a wider audience for his music.

In June 2014, Easy Montana inked a record label deal with Money Makers music group, marking a significant milestone in his career. The release of his track "Baby Dou" under the label proved to be a resounding success.

Some of Easy Montana's most notable singles include 'Adonai Refix,' 'Gbassakelemgbe,' 'Yorobo Dance,' and 'Question De Temp.' These tracks have garnered widespread acclaim, solidifying his status as a rising star in the industry.

Beyond his musical pursuits, Easy Montana holds a degree in French and English translation, which he obtained in 2004 after completing his WACCE. While doing music was not initially embraced by his family, as he attended Roman Catholic schools where many students were drawn to the art form, Easy Montana's determination led him to pursue both education and his passion simultaneously.
Following his return to Ivory Coast in 2010, he briefly worked as a marketer for a renowned company until 2012 when he decided to fully dedicate himself to music.

In 2012, Easy Montana released his first collaboration with Chedjevara titled "Ya Pour Tout Les Gouts." He later founded the group "Money Makers," recognized as one of the pioneers of Afrobeat in Ivory Coast. Their debut release, "Baby Doo," propelled them to new heights, opening doors to prominent music platforms.

While the group eventually disbanded, Easy Montana embarked on a successful solo career. Notably, his 2014 'refix tribute' of Sarkodie's "Adonai" featuring Castro paid homage to the late artist and garnered significant acclaim.

Throughout the years, Easy Montana has consistently delivered hit songs such as "Adonga" featuring Nicsson Lhomme Fort, "Scalaba" as a solo release, and the collaborative track "Your Lady" with Esmey.

In 2017, he made a remarkable comeback with "Gbassakelemgbe," followed by "Fo Bleh Bleh" in 2019. His subsequent releases included "Yorobo Dance" in 2020, "Tout Petit," "Akwababa," "Question de Temps" in 2022, and "Dans Bon" in 2023.
Source: GNA