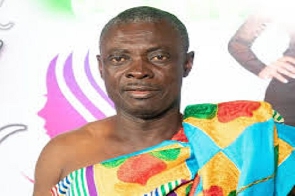 The founder of Life Assembly Worship Centre, Rev. Christian Kwabena Andrew popularly known as Osofo Kyiri Abosom has disclosed why he and his church members did not take the COVID-19 vaccine jab.
In his narration, he indicated that God revealed herbs to could cure any infected person and it worked for his congregants hence he did not see the essence of taking the COVID-19 vaccine that had health implications.

He alleged that President, Nana Addo Dankwa Akufo-Addo did not take the COVID-19 jab as it was portrayed on television but it was rather chloroquine.

Speaking in an interview with United Television (UTV) which was monitored by GhanaWeb, Osofo Kyiri Abosom stated that the use of herbs by his congregants was part of the reasons they did not take the COVID-19 vaccine jab.

"If the person comes and reveals that I should give him a bitter leaf, Nim tree, or cassava leaves and he will be healed when I do, it works. The voices speak with me, I have three angels who walk with me.

"I told them to forget about COVID-19. In case one gets infected, I told them to use Nim tree or other herbs and they'd be healed, people enjoyed that and they were free. Why would I take the COVID-19 vaccine shot, for what? None of my congregants took the COVID-19 vaccine shot, I told them not to because it has consequences," he said.
He went ahead to challenge President Akufo-Addo to come out and deny that the shot he took was chloroquine instead of the actual COVID-19 jab.

"President Akufo-Addo took a chloroquine jab not Covid-19 vaccine. It was a lie that the President took the COVID-19 jab, he was even afraid. If I am lying he should come out and deny it, he didn't. Most of the prominent personalities didn't take the COVID-19 jab, they lied to us," said Kyiri Abosom.

Watch the interview below


Prez Akufo-Addo took a chloroquine jab instead of the COVID-19 vaccine - Osofo Kyiri Abosom, explaining why he and his church members refused to take the vaccine shot#UTVGhana pic.twitter.com/fAeWyvPCxz

— UTV Ghana (@utvghana) September 27, 2023
BS/BB
Ghana's leading digital news platform, GhanaWeb, in conjunction with the Korle-Bu Teaching Hospital, is embarking on an aggressive campaign which is geared towards ensuring that parliament passes comprehensive legislation to guide organ harvesting, organ donation, and organ transplantation in the country.

Click here to start the nomination process for the 2023 GhanaWeb Excellence Awards

Watch E-Forum below.