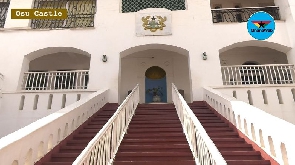 In a significant announcement during an Editors Forum organized by the Ministry of Tourism, Arts and Culture in collaboration with the Ghana Tourism Authority, Dr. Ibrahim Mohammed Awal, the Minister of Tourism, Arts and Culture, revealed an ambitious plan to revitalize one of Ghana's historic landmarks.
Under the captivating theme "Tourism: Policy, Progress, and Partnerships," Dr. Awal's revelation of a transformative project that seeks to reshape the Osu Castle into a beacon of historical significance and cultural attraction is part of the significant progress status among several interventions in Ghana's Tourism.

The Osu Castle, a vestige of Ghana's past, is destined for a remarkable metamorphosis into the "Presidential and Governance Museum." This innovative endeavour aims to curate and safeguard the legacy of every president and government that has contributed to the nation's trajectory, spanning from the pre-independence era to the present day.

Expressing his optimism, Dr. Awal shared, "Hopefully next year, we are going to modernize it and put the busts of all former presidents, including the colonial administrators, on display so that it can be a source of attraction for tourists." The transformed Osu Castle is envisioned to become a magnet for both domestic and international tourists, offering a captivating journey through Ghana's historical tapestry and the evolution of its governance structures.
The minister's vision extends beyond the Osu Castle transformation. Dr. Awal also disclosed plans for the modernization of the DuBois Centre, another significant cultural landmark. "Before the end of this year, we will cut the sword for the modernization of the DuBois Centre to make it another tourist center," he shared.

This dual-pronged effort to enhance historical sites and cultural centres underscores the ministry's commitment to fostering tourism as a means of celebrating Ghana's rich heritage and fostering economic growth.

This is also part of efforts to achieve the success of the "Destination Ghana" initiative building on the successes of the Year of Return. Riding on the back of vast ecological and unique heritage sites across the country, the project according to the Minister, seeks to attract, by 2026 2 million tourists annually from the United Kingdom and Europe and generate USD 6 billion every year.