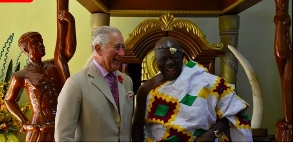 The Asantehene Otumfuo Osei Tutu II says he will be collaborating with King Charles III of the United Kingdom to reclaim lands that have been destroyed by illegal mining activities in Ghana.
The Asantehene disclosed this at the launch of the 2023 edition of the Green Ghana Day held in Kumasi today, Wednesday, 17 May 2023.

He said he had a discussion with King Charles III when he attended his coronation in London about land reclamation in Ghana.

During the private discussion, Otumfuo said, King Charles III accepted to collaborate with him to reclaim lands destroyed by galamsey activities in the country.
Otumfuo said his technical team together with King Charles' team will meet to formulate a policy to embark on the land reclamation.

"When I attended the coronation of King Charles III whose number one legacy is perhaps his commitment to afforestation, reforestation and the fight against climate change, interestingly, my discussions with him were on land reclamation in Ghana and we had some private discussions and he has accepted to collaborate with me for us to do that," the Asantehene said that.

He added "he [King Charles III] has directed his technical team to meet mine so we can direct a policy to meet for that to help Ghana reclaim some of our land that has been destroyed by galamsey".