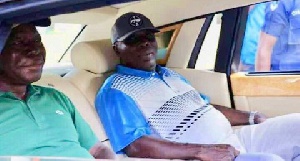 History was made on Saturday after the Asantehene, Otumfuo Osei Tutu II and the Okyenhene, Osagyefuo Amotia Ofori Panin, rode in the same car.
The two dignitaries were seated at the back of a luxurious black Rolls-Royce Phantom car which is owned by the Asante monarch.

The expensive vehicle, which has been registered 'Asantehene,' is rarely used by the Asantehene who owns a fleet of flashy cars, for public functions.

But Otumfuo decided to give his august visitor, the Okyenhene, a ride in the vehicle to the admiration of Kumasi residents and Okyenhene's entourage.

The Okyenhene was in Kumasi to participate in the tee-off of the 2nd Head of State Invitational Golf Tournament at the Royal Golf Club in Kumasi.

From the Manhyia Palace, the official seat of the Asantehene, Otumfuo and Okyenhene rode in the Rolls-Royce Phantom to the venue of the event.

The royal convoy, which included different flashy vehicles, moved through some principal streets of Kumasi, attracting ovation from the crowd.
The Asantehene, Okyenhene, Manso Nkwanta Paramount Chief, Nana Bi-Kusi Appiah and business magnate, Sam Jonah, officially started the competition.

After the tee-off event, which lasted less than an hour, Otumfuo and Okyenhene returned to the Manhyia Palace in the same car.

The Asantehene also organized a mega dinner at the Nana Afia Kobi Serwaa Ampem II Gardens in the Manhyia Palace on Saturday night.

The dinner was graced by President Akufo-Addo and other top traditional leaders, politicians and dignitaries in the country.

The Asantehene's decision to ride in the same vehicle with his august visitor has clearly put to shame the detractors of the two powerful monarchs.

There had been rumours that animosity, tension and rivalry exist between the Asantehene and the Okyenhene which had gained currency for some time.
Some politicians, who want to take advantage of the situation for political reasons, have constantly tried to create tension between the two gentlemen.

Denial

Interestingly, officials of Otumfuo's Manhyia Palace and Okyenhene's Ofori Panin Fie continually debunked the rumours.

Top officials from the two palaces stated emphatically that Otumfuo and Okyenhene are not enemies at public functions.

Those who doubted that the Asantehene and Okyenhene are not enemies were clearly put to shame following the brotherly act by the two dignitaries.