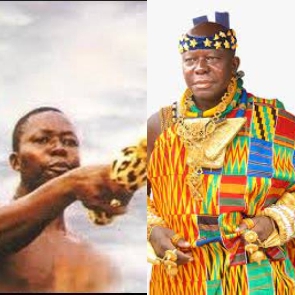 Ruler, Otumfuo Osei Tutu II is 24 years serving as King of the Ashanti Kingdom.
Born, Nana Barima Kwaku Duah, Otumfuo Osei Tutu II ascended the throne on April 26, 1999, as the 16th Asantehene since the Asante empire was founded by Osei Tutu I.

Since his ascension to the throne, Otumfuo Osei Tutu II has contributed immensely to the development of the empire and to Ghanaian politics.

The king in the Asante kingdom is revered by his subjects.

Here are some of the notable things to the credit of the Asantehene since he was enstooled as king.

Restoring peace to Dagbon:
The role of the Asantehene in the restoration of peace and the subsequent enskinment of an overlord for the people of Dagbon.

Institution of the Otumfuo Education Fund:

Shortly after his enstoolment in 1999, the Asantehene instituted an educational fund to help the youth in the Ashanti Region.

Mediation of Kwame Nkrumah University of Science and Technology riots:

In October 2018, students at Kwame Nkrumah University of Science and Technology protested and caused damage to school property. Otumfuo Osei Tutu II who is the Chancellor, intervened and reopened the school after it was closed by the Ashanti Regional Minister. He also formed a committee to investigate the reasons for the student riots.
Influenced IMF's aid to Ghana:

In July 2016, ex-President John Dramani Mahama applauded the significant role of the Asantehene in the bailout the International Monetary Fund (IMF) gave Ghana.

The 10-year development plan for Kumasi:

Otumfuo Osei Tutu unveiled a 10-year development plan for Kumasi in April, 2019.The plan also includes an initiative to industrialize the local economy to scale up employment and create wealth in the city.

Meanwhile, watch the latest episode of People and Places on GhanaWeb TV below:




NW/BB