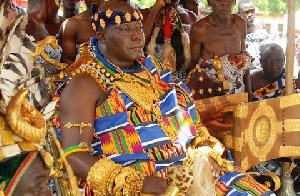 The Asantehene, Otumfuo Osei Tutu II, has admonished Africans to relegate ethnic rivalry to the background as they strive to develop the continent.
According to him, ethnic rivalry is not necessary in the 21st century. The African continent is faced with myriad of mountainous challenges but with oneness, unity and respect for the various tribes, Africans would easily overcome their problems and develop.

He gave the powerful address during a colourful traditional ceremony to mark the 25 years coronation of the Kabaka of the Buganda Kingdom in Uganda, His Royal Majesty, Roland Muwenda Mutebi II.

The Asante Monarch, who was the special guest of honour for the mammoth traditional event, observed that the African continent is presently faced with problems like poverty, ignorance and diseases.

Without mincing words, the 16th Monarch of the Asante Kingdom, stated emphatically that proper education of the people on the continent is the surest way for Africans to attain proper development.

"The only enemies we all have to fight are poverty, ignorance and disease and the only weapons we need to fight these enemies are education, education and education", the Asante King pointed out.
He added: "That is the challenge we all face and the goal we should pursue; ethnic rivalry should have no place in the process", stressing that Africans need to properly collaborate to defeat their problems.

Sounding optimistic, Otumfuo predicted that definitely Africans would be able to conquer their problems, but he was quick to add that educating the people on the continent should be given utmost prominence.

The Asantehene, whose short address was intermittently interrupted with wild applause by his audience, including the Kabaka of Buganda Kingdom and his wife, said Africans are one people with a common destiny.

According to him, if the people on the continent see themselves as one people and do away with divisive acts such as ethnic rivalry and lack of respect for one another, then definitely the continent would grow properly.

Otumfuo also blessed the Kabaka and wished him a prosperous reign in future, saying "we shall be back here in 25 years from now to celebrate greater achievements for the people of Buganda under your wise leadership".