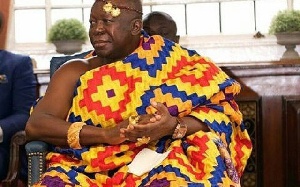 The Asantehene Otumfuo Osei Tutu II has donated 50,000 Ghana cedis to the family of the late Major Mahama
The money, according to Otumfuo, is to sponsor the education of the children of the late major.

The donation was made to the family of the late soldier at the Manhyia Palace during a courtesy call by the family of the late military man.

Otumfuo described Major Mahama as a gentile soldier who dedicated his life to the service of the country.

He added that, the family should take solace in the fact that God who blessed the family with him has taken him back.

The delegation that called on the Asantehene included the Family head of Major Mahama, his father and Babara Mahama, the widow.

Background
The deceased, Major Mahama, an officer of the 5th Infantry Battalion, is said to have been on his daily jogging routine on Monday [May 29, 2017], when some angry youth of the town attacked him, allegedly on suspicion of being an armed robber.

The Police subsequently arrested over fifty suspects who had fled the town to other regions in the country.

The court earlier ordered the police to relocate seventeen-year-old boy, Ebenezer Asamoah, one of the suspects to a borstal home when he is remanded until the police are able to establish that he is eighteen.

At a previous hearing on July 6, 2017, 13 out of 32 were discharged. Their discharge followed a decision by the state to have them released.

Nineteen have been charged with murder and abetment of murder and are currently facing trial.