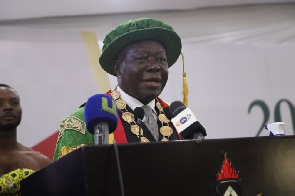 Asantehene Otumfuo Osei Tutu II has been invited as a special guest to the University of Oxford as the institution honours a prominent alumni.
The alumni in question is former president John Agyekum Kufuor.

The invitation to the Otumfuo was disclosed by a social media page known as Ashanti Kingdom, which shares content around the revered monarch and Asanteman.

The former president John Agyekum Kufuor is currently in the United Kingdom having been captured at the 73rd birthday dinner of the Asantehene in London.

The Asantehene on the otherhand arrived in the UK last week as an official guest for the coronation of King Charles III and Queen Camilla on May 6.

"Otumfuo has been invited to the University of Oxford tomorrow as a Special Guest at an event. The University is honouring its distinguished Alumni, former President John Agyekum Kufuor," a tweet by Ashanti Kingdom read in part.
Even though GhanaWeb has yet to confirm Kufuor's reason for being in the UK, if he is honoured as per this report by the Exeter College at Oxford which he enrolled in between 1961 till 1964, it would be the third honour he is receiving.

In 2002, the Governing body of Exeter College of Oxford University bestowed on President J.A. Kufuor an Honorary Fellowship of the College.

"A release signed by Mr J.O. Obetsebi-Lamptey, Minister for Information and Presidential Affairs said the message about the honour was sent to the President through Ghana High Commission in London.

"A letter signed by Madam Marilyn Buttler, President of the college explained that the Honorary Fellowship had been a category reserved for old members who have reached a special eminence," a GNA story at the time read.

In 2019, a schorlarship programme for post graduates was also started in his name, the John Kufuor Scholarship.
Otumfuo has been invited to the University of Oxford tomorrow as a Special Guest at an event.

The University is honouring its distinguished Alumni, former President John Agyekum Kufuor.

Definitely, an MoU will be signed between the University and the Prestigious KNUST.

Piaw! pic.twitter.com/hazCSQVLqL

— The Asante Nation (@Ashanti_Kingdom) May 8, 2023
Meanwhile, watch the latest episode of People and Places on GhanaWeb TV below:
Watch the latest episode of The Lowdown below:


SARA